Remembering Perian Conerly

Posted on: June 18,2021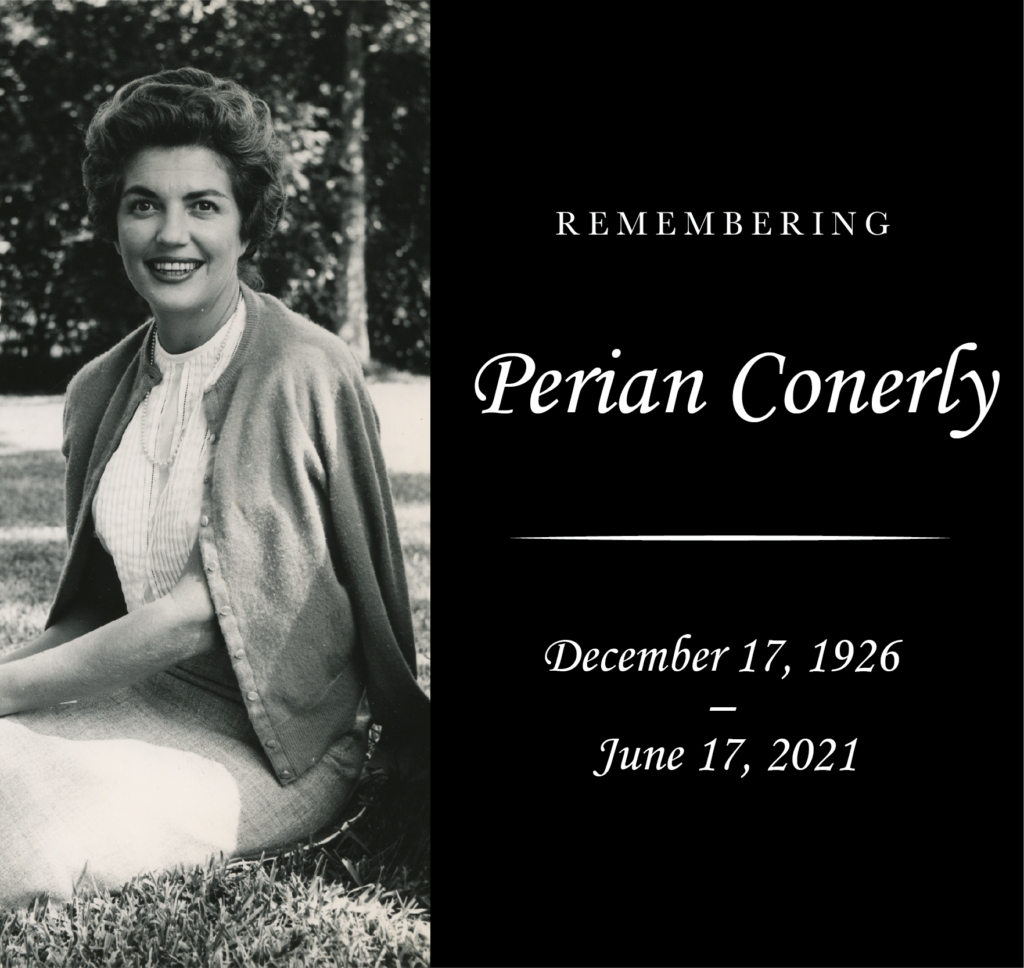 The Mississippi Sports Hall of Fame & Museum is saddened to hear of the passing of Perian Conerly, a talented pioneer for female sports writers, the wife of the late Hall of Fame quarterback Charlie Conerly, and supporter and friend of the Hall of Fame. The following obituary was written by Rick Cleveland.
---
Perian Collier Conerly, age 94, died June 17, in Oxford, Mississippi. She was the daughter of Ben and Gladys Collier. She was a lifelong resident of Clarksdale, Mississippi and a part time resident of New York City when her husband was quarterbacking the New York Football Giants in the 40's, 50's, and 60's.
After graduating from Clarksdale High School she continued her education and zest for life at Mississippi State College for Women (MSCW) where she graduated with honors with a degree in journalism. Shortly thereafter she married her hometown sweetheart Charles Albert Conerly, Jr., a/k/a Chunkin Charlie, a/k/a Roach. He was her hero and she proudly shared him with thousands. of Ole Miss and New York Giant fans. In the 1950s, Charlie and Perian were the toast of New York — he the ruggedly handsome quarterback and the original Marlboro man, she the Southern belle with movie star glamour, a naturally warm personality and all that charm and wit.
Like her husband Charlie, Perian was also a tremendous athlete. She was an avid golfer, several times the club champion at Clarksdale Country Club, and could better the scores of most men at the club. She was the first ever female inducted into the Football Writers Guild of America on the strength of a syndicated article she authored each week when Charlie played for the Giants. Her book Backseat Quarterback is a must read for everyone and, if you haven't read it, you should.
Perian could write. Consider this paragraph from her book "Backseat Quarterback" first published by Doubleday in 1963. Perian was writing about meeting Charlie at a swimming pool in 1947: "I was immediately taken with his dark good looks and engaging shyness. And he had lean, low-slung lines particular to athletes and Cadillacs. I have always been partial to both."
She had been the editor of her college newspaper, "The Spectator," at what is now Mississippi University for Women. After marriage, Perian approached the editor of the Clarksdale paper with the idea of writing a weekly column about life in New York during the football season. The column was instantly a hit, so she approached The Clarion Ledger about also publishing the column. Suddenly, she was syndicated. The North American Newspaper Alliance learned of the column and sought to publish on a much wider scale. The New York Times was among the subscribers.
She loved Cadillacs, loved number 42, loved to dance, loved Gone with the Wind, loved Italy, loved games (particularly bridge) and cats. But above all she loved Charlie Conerly, who only shared her love of Cadillacs.
She did not like sand or for her hair to get wet. A cheesy plastic rain cap was her constant companion along with lipstick and Kleenex and of course her gold earrings. She taught us like her mother taught her that a lady never left home without earrings. She was messy, boy was she messy, but she did not care nor did we.
Back in the day, she was as fashionable as Marilyn Monroe and could wear her stilettos with the best of them. Her appearance on What's My Line speaks to her glamour. Just take a look.
She is survived by her nephew and nieces Katherine Steele, Gibb Steele (Laurie), Charlie Steele (Rebecca), Rod Ratliff (Jeanette), Rebecca (Becki) Brooke, Rachel Cytanovic, (Pete), Vicki Bates (David), great nieces and nephews and their family's, cousin Blaine Lamb (Rosemary) and her cat Maggie.
She became the matriarch of the Malvezzi family of Clarksdale and was devoted to them and they to her. She is survived by her constant companion and favorite Lulu Malvezzi Maness (Steve) of Jackson, MS, and other favorite and CEO Perian Malvezzi Stribling (Scott) of Clarksdale, MS and the other "Malvezzi orphans", who did as little as possible, Toni Malvezzi Hardin (Billy) of Duncan MS, Guy Malvezzi of Duncan, MS and Jeanella Malvezzi Mathis (Jimmy) of Cochise, AZ and San Carlos, MX.
She is on her final trip, dressed to the hilt in the highest of heels, on her way to the arms of #42 Charlie, waiting for the starting kickoff with the best seats in the house. 42Rules!
Visitation will be at Meredith Nowell Funeral Home in Clarksdale from 5pm to 7pm on Thursday June 24. A private family service will be held on Friday.
In lieu of flowers, please send donations to your Mississippi Sports Hall of Fame, 1152 Lakeland Dr., Jackson, MS 39216.
Click to read more about Perian Conerly: The Original Backseat QB.