Preseason Watch List for the 2022 C Spire Conerly Trophy

Posted on: August 18,2022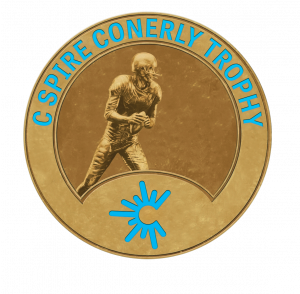 As summer fades to fall, there's one thing on the minds of Mississippians: college football. While the 10 colleges and universities are deep in the trenches of fall training, we have gathered a list of players to watch this season for the prestigious C Spire Conerly Trophy. Named after Ole Miss and NFL legend Charlie Conerly, the C Spire Conerly Trophy awards the most outstanding college football player in Mississippi. 2021 winner Matt Corral has gone on to the Carolina Panthers, but many other nominees return to their schools. Here's a look at players to watch for the C Spire Conerly trophy.
Previous Nominees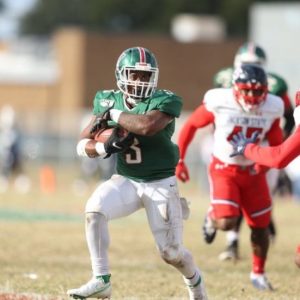 Caleb Johnson, Mississippi Valley State University
A redshirt junior running back from Memphis, Caleb Johnson is a player to watch this season. In 2021, Johnson totaled over 1000 rushing yards with an average of 14.5 carries per game.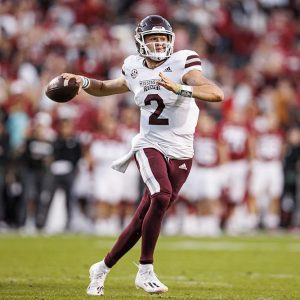 Will Rogers, Mississippi State University
Rogers returns for his 3rd year as the signal caller for the Air Raid offense. With a career completion percentage of 72.3% and over 6,700 passing yards, Will Rogers will certainly be an asset to the Bulldogs.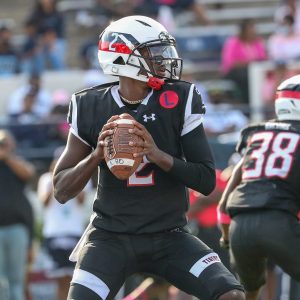 Shedeur Sanders, Jackson State University
After a record-breaking freshman season, Shedeur returns for another great season with the Tigers. Sanders threw for over 3,000 yards in 2021 with a completion percentage of 65.9%.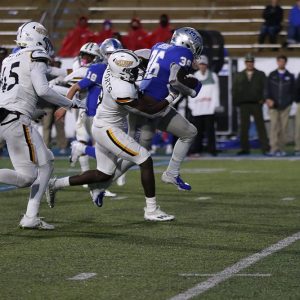 Malik Shorts, University of Southern Mississippi
The defensive back recorded 89 total tackles and 2 interceptions last season. Southern will rely on Malik Shorts again this season on the defensive side of the ball.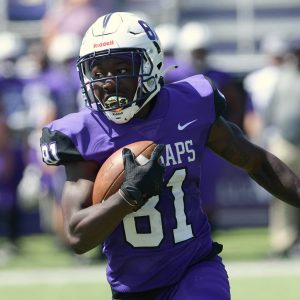 Moïse Tezzo, Millsaps College
A wide receiver and kick returner from Houston, Texas, Tezzo has been a standout in his years at Millsaps. In 2021, he had 36 receptions for 670 yards and 7 touchdowns. He returned 14 kicks for 223 yards.
Quarterbacks
As the quarterback competition heats up in Oxford Luke Altmyer, Jaxson Dart, and Kinkead Dent from the University of Mississippi have all shown that they are players to watch. Freshman Ty Keyes from the University of Southern Mississippi recorded a very impressive high school career and is one to watch this season as he has his college debut. Delta State's Cole Kirk returns as the play-caller for the Statesmen after a successful 2021 season with 98 passes for 981 yards and 3 touchdowns
Running backs/Wide Receivers
CJ Bolar from Alcorn State caught 40 passes last season for 668 yards, earning his spot on the list. Belhaven University's Kolbe Blunt was very productive last season with 593 rushing yards, 80 receiving yards, and 224 kick return yards. Niko Duffey from Alcorn State has been a force with 1,652 career rushing yards and 10 rushing touchdowns. Ole Miss's Zach Evans is a promising transfer from TCU who has ran for 1063 career yards and 9 touchdowns. Frank Gore, Jr. has been Southern Miss's leading rusher for the past two seasons, earning his spot on the list. Jonathon Mingo from Ole Miss reeled in 346 yards on 22 catches last season and is a player to watch this season.
Linemen
Junior Defensive Lineman from Mississippi Valley State Jalen Bell put up an impressive 39 total tackles and 4 sacks last season. Offensive Lineman Kendrioun Boatman from Belhaven University has shown a lot of promise for the Blazers. Mississippi College Offensive Lineman Blane Cannon is back after an injury in 2019 and is a promising candidate for the Choctaws. Linebacker Claudin Cherelus has been a real asset for Alcorn State, recording 76 tackles and 2 sacks last season. Belhaven University's Connor Fordham is a player to watch with 38 tackles as Linebacker. Standout Defensive Tackle Nathan Pickering from Mississippi State joins the list with 54 total tackles and 15 tackles for loss. Ronnie Thomas from Mississippi Valley State recorded 22 tackles and 6.5 sacks last season and can be found on many other preseason lists. Delta State's Defensive End Tim Williams has been a playmaker for the Fighting Okra, recording 37 career tackles.
Other Defensive Players
Caleb Brunson, Defensive Back from Mississippi Valley State, can be found on many preseason lists after recording 28 tackles last season. Highly sought-after Travis Hunter shows a lot of promise for Jackson State, playing both Wide Receiver and Cornerback for the Tigers this season. Tylan Knight, a transfer from Ole Miss, is going to be a huge asset for Southern Miss this year, with 78 career tackles as Defensive Back. Mississippi College's Nick Walker joins the list after 29 tackles and 3 interceptions last season.
Mississippi has produced some of the most outstanding football players in the country, many of whom have won this prestigious award. With the 2022 season quickly approaching, fans clearly have many players to keep on their radar for the C Spire Conerly Trophy. The C Spire Conerly Trophy will be awarded after the conclusion of the regular football season. Stay tuned for more information.