Quinshon Judkins wins the 2022 C Spire Conerly Trophy

Posted on: November 29,2022
Ole Miss Freshman Running Back chosen for the honor and title of best college football player
in Mississippi by a panel of in-state sports news journalists.
Ole Miss Freshman Running Back Quinshon Judkins has won the 2022 C Spire Conerly Trophy edging out other top two finalists, JSU's Quarterback Shedeur Sanders and Mississippi State Defensive Back Emmanuel Forbes, Jr. The three finalists and other seven nominees for the award all had exceptional seasons. Judkins rushed for 1476 yards and scored 17 touchdowns leading the Rebels to an 8-4 record.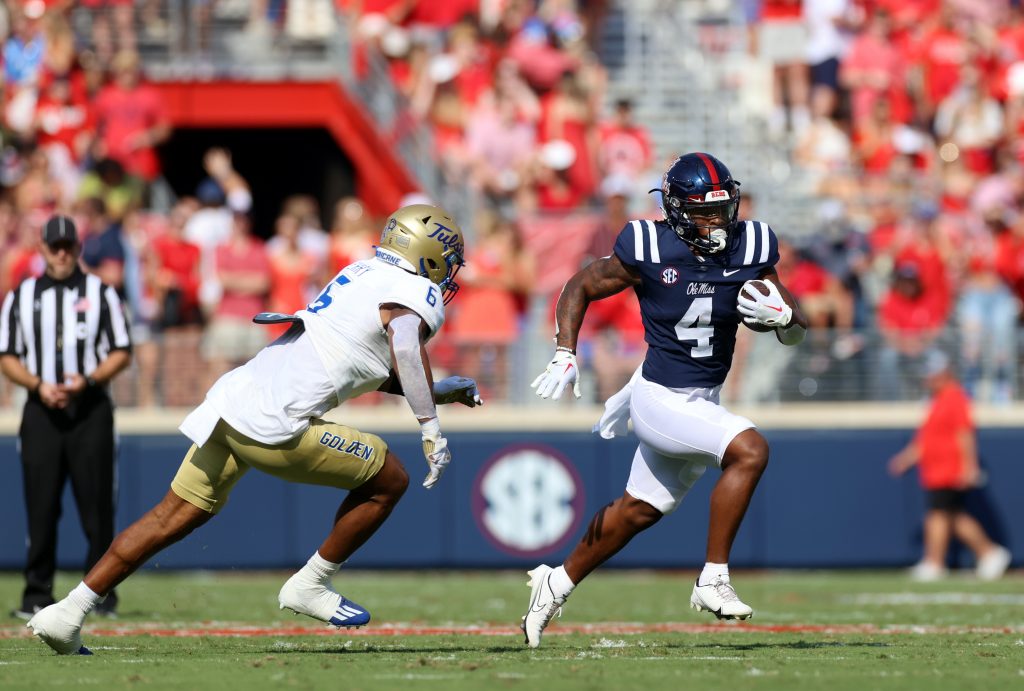 Sophmore signal caller Sanders completed 70% of his passes for the season and threw 32 touchdown strikes. His Tigers have a perfect 11-0 record going into Saturday's SWAC Championship game versus Southern University. Junior Defensive Back Emmanuel Forbes, Jr. set a career mark with 14 interceptions for his career and also owns the record for pick-sixes with 6 total. He intercepted six passes this season and had 39 total tackles. He was the Bronco Nagurski Player of the Week for his game versus Texas A&M.
The 2022 C Spire Conerly Trophy was awarded during a virtual presentation on Tuesday night streamed online after severe weather forced the in-person event to transition to online-only for the safety and concern of all planning to travel for the highly anticipated event. The award is named after Charlie Conerly, a Mississippi Sports Hall of Famer, college All-American, an NFL rookie of the year and NFL All-Pro who quarterbacked the New York Giants to a world championship.
The other seven award nominees from Mississippi's 10 football-playing universities and colleges were Delta State Quarterback Patrick Shegog, Alcorn State Running Back Jarveon Howard, Belhaven Linebacker Connor Fordham, Millsaps Wide Receiver Moïse Tezzo, Mississippi College Running Back Marcus Williams, Mississippi Valley State Defensive Lineman Ronnie Thomas, and Southern Miss Wide Receiver Jason Brownlee.
The Kent Hull Trophy, which goes to the top Offensive Lineman in the state, was awarded to Ole Miss Senior Guard Nick Broeker. Broeker returned for his final season with the Rebs and switched from left tackle to the left guard position. Named for Mississippi Sports Hall of Famer Kent Hull, Entergy and the Kent Hull Foundation sponsor the award. This is the 10th presentation of the Kent Hull Trophy and the 9 previous winners have all played in the NFL.
Previous winners of the C Spire Conerly Trophy include former and current NFL players such as Dak Prescott, Eli Manning, Anthony Dixon, Patrick Willis, Deuce McAllister, Jerious Norwood, Michael Boley, Evan Engram, A. J. Brown, Jeffrey Simmons and more. Prescott and Manning are the only two-time winners in the award's 27-year history.
C Spire has sponsored the outstanding player awards program for football since 1998. The trophy is awarded to the nominee voted as the top player by a panel of news media covering college football in the state. "We're very pleased with the caliber of players selected as nominees and finalists for the C Spire Conerly Trophy this year," said Jim Richmond, VP, Corporate Communications for C Spire. "Our winner is not only a great football player, but an outstanding young man with good character, a leader with a positive attitude and a terrific work ethic."