Renovated Olympic Room to Open March 27

Posted on: March 22,2013

For Immediate Release:


JACKSON — 2012 Olympics gold medalist and world record holder Bianca Knight of Ridgeland and three-time Olympics medalist Ralph Boston, a Laurel native, will attend the Mississippi Sports Hall ofFame and Museum's March 27 celebration of the renovation and expansion of the museum's Olympics Room.
The Olympics Room, sponsored for 16-plus years by the Ben Puckett family, celebrates Mississippi's remarkable Olympics heritage An informal reception, scheduled for 3-6 p.m., is open to the public.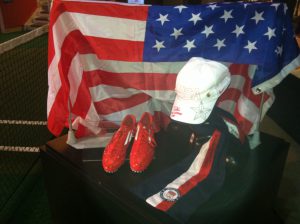 Knight was part of the 4 x 100-meter world record-setting U.S. relay team. She donated to the museum much of her London Olympics memorabilia, including the bright red spiked shoes she wore and the flag she wrapped around herself during the gold medal celebration. All that will be on permanent display in the Olympics Room.
Boston, who won gold, silver and bronze long jump medals at three different Olympics sites over 12 years, has been a long-time supporter of the Mississippi Sports Hall of Fame and Museum. He was inducted into the Mississippi Sports Hall of Fame in 1976.
The museum's Olympics collection also contains the two gold medals won by Richton native Leroy Cochran in the 1948 Olympics at London.
"We want to show off our Olympic Room, we want to celebrate Mississippi Olympians past and present, and we want to thank Ben Puckett and his family for their generous long-time support of the museum," said MSHOF executive director Rick Cleveland.